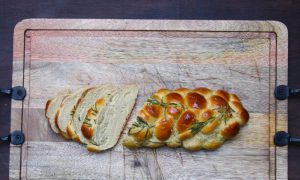 Rosemary Garlic Challah
When I first started experimenting with challah varieties, rosemary and garlic was one of the first flavor combinations I tried, a nod to my dual Italian-Jewish heritage. The rosemary and coarse sea salt on top is not only delicious, but the combination produces a strikingly beautiful, but simple, challah. You don't have to use fresh rosemary—it is just as beautiful if you use dried rosemary.
Author of 'Modern Jewish Baker,' Shannon Sarna. (Emily Goodstein)
Yields 2 medium loaves
For the Dough:
1 1/2 tablespoons dry active yeast 1/2 cup plus 2 tablespoons plus 1/2 teaspoon sugar 1 1/4 cups lukewarm water 4 1/2–5 cups unbleached bread flour (preferably King Arthur) 1 1/2 teaspoons table salt 1/4 cup vegetable oil 2 tablespoons dried rosemary 1 tablespoon jarred minced garlic in oil 2 large eggs
For the Dough: In a small bowl, place the yeast, 1/2 teaspoon sugar, and lukewarm water. Stir gently to mix. Allow to sit 5 to 10 minutes, until it becomes foamy on top.
In a large bowl or stand mixer fitted with the whisk attachment, mix together 1 1/2 cups of the flour, salt, and 1/2 cup plus 2 tablespoons sugar. Add the water-yeast mixture, oil, dried rosemary, and minced garlic to flour. Mix thoroughly.
Add another 1 cup of the flour and 2 eggs and mix until smooth. Switch to the dough hook attachment if you are using a stand mixer.
Add another 1 1/2 to 2 cups of flour, mix thoroughly, then remove from the bowl and place on a floured surface. Knead the remaining 1/2 cup flour into dough, continuing to knead for about 5 minutes.
Place dough in a greased bowl and cover with a damp towel. Allow to rise at least 3 hours.
Divide the dough in two and braid the challahs into desired shape. 
Place braided challah on a baking sheet lined with parchment paper or silicone baking mat.
Allow the challah to rise another 45 to 60 minutes, or until you can see the size has grown and the challah seems light. This step is very important to ensure a light and fluffy challah. Preheat oven to 375 degrees F while the dough rises.
For the Topping:
2 egg yolks (or 1 whole egg) 1 teaspoon water 1 teaspoon dried rosemary or 3–4 fresh rosemary sprigs 1/2 teaspoon minced, dried garlic flakes 1/4 teaspoon coarse sea salt
For the topping: In a small bowl beat 2 egg yolks with 1 tea­spoon water. Brush the egg wash liberally over the challah. Sprinkle with the additional dried rosemary, minced garlic flakes, and coarse sea salt. If using whole fresh rosemary sprigs, run them under cold water briefly and pat dry gently. For a particularly artful presentation, place the whole rosemary sprigs on top of the glazed challah.
Bake 24 to 26 minutes, or until the color is golden.
Reprinted from "Modern Jewish Baker: Challah, Babka, Bagels & More" by Shannon Sarna. Published by Countryman Press.
|0|https://www.theepochtimes.com/rosemary-garlic-challah-recipe-from-shannon-sarnas-modern-jewish-baker-cookbook_2430152.html|1|https://img.theepochtimes.com/assets/uploads/2018/02/14/ModernJewishBaker_RosemaryGarlicChallah_35-1200x935.jpg|2|www.theepochtimes.com|E|